We are a trade partner of Lanoguard UK, their protection system protects the whole vehicle underbody and chassis from rust, corrosion and electrolysis with a strong barrier coat.
Lanoguard is a versatile corrosion/rust prevention and waterproofing spray and grease product with a range of features making it perfectly suited to protecting vehicles.
We apply Lanoguard to give you everything you need to easily protect your vehicle underbody and accessories from the elements, giving you the best value for money.
Long lasting rust prevention and waterproofing kit for vehicle underbody and whole chassis
Resistant to jet-washing, heat, salt, acid and alkaline
Easy application with very little prep needed and minimal mess
Non perishing and non-conductive – it is safe on rubber, plastic and electric components.
Using the Injector Pack we apply protection to sills and box sections
Lanoguard is eco-friendly
It has green non-hazardous certifications. It does not require special handling, protective clothing or disposable gloves, which all add to the carbon footprint of utilising a product that is hazardous.
The primary ingredient of Lanoguard is Lanolin which is a very ecologically safe and sound base. In fact, an entire dam in New Zealand was moved down river on a base of Lanoguard marine grease which shows you how the river authority was not concerned about any toxins that would be left as a result.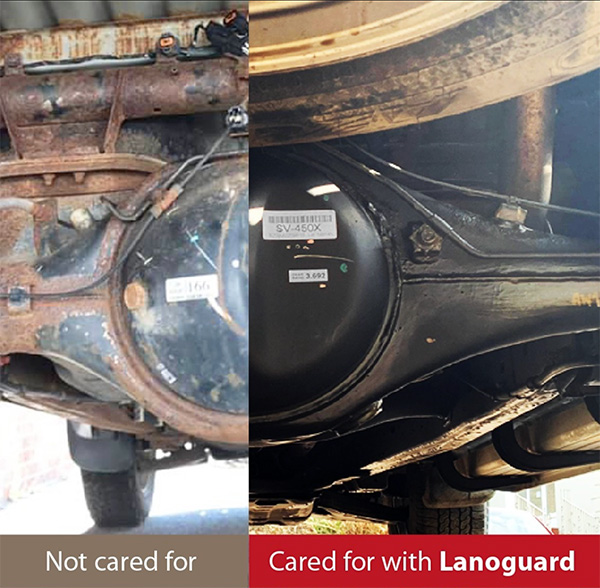 To find out more or book your car in please contact us. Lanoaguard is recommended to be topped up annually so it makes sense to do this with your MOT or annual service.
Lanoguard specification
Lanoguard has been formulated from a lanolin base – which gives it three key properties:
It hermetically seals to the surface it sits on (provides a barrier between the surface and the environment which displaces all oxygen and moisture, making rust chemically impossible).
It has a natural attraction to metals (it can be sprayed onto existing rust, as it will attract to the metal underneath and slowly push off the oxidation over time.
It doesn't require a keyed surface (most conventional products require a 'keyed' heavily prepped and de-rusted surface. Lanoguard requires minimal prep because lanolin will happily sit on top of existing rust).
These properties work together to bring the benefits of Lanoguard. Our products are:
Jet wash resistant (up to 3000psi)
Heat resistant up to 450°C (use on exhaust, engine etc.)
Non-evaporating
Non-conductive to 70,000 volts
Non-flammable
Non-perishing (they can be used on rubbers and plastics, meaning no masking up is required)
Petrol and diesel resistant
Natural and non-toxic (non-harmful to the applicator with minimal PPE needed)
Non-petroleum based with no overspray (low mess, low clean-up, clean workshop!