John Woods Motorcare Ltd
"We take care of everything — brakes, oil changes, carburettor tuning — in fact, all the care your Classic Car needs."
1973
John Woods completed a full apprenticeship with Lindop Brothers Toyota, Chester, before working his way up to Workshop Foreman.
He left Lindop Brothers in 1986 and joined Bakers MOT as Workshop Technician alongside Dave Baker.
1992
John started John Woods Motorcare as a sole trader, starting out doing mechanical jobs from the boot of his car on peoples drives. After having various workshop premises over the years John ended up in a workshop on Mollington Grange, Chester for over 20 years. John's son Adam joined his Dad full time in 2010 after completing his Mechanical Engineering qualifications at a local college.
2007
After outgrowing the premises in Chester, John sought advice and turned John Woods Motorcare into a limited company and arranged to move the business to larger premises in Mold, North Wales.
The business continues to thrive in its' new location.
Trade associations

Specialist Vehicle Associates (SVA) Trade Association
John Woods saw an advert for the SVA in a Motoring publication recently and decided to make enquiries with the founder Martyn Raybould. After having a lengthly conversation with Martyn, John decided that it would be good for John Woods Motorcare Ltd to sign up to the Trade Association.
The SVA is a Trade Association not unlike any other association of like minded businesses, set up with a view to build a fraternity of members who benefit from a shared strength in numbers, whats unique about the SVA are the free of charge benefits from their Founder Partners who provide services to the Members.
They also have a vision, of adding a million Owners, Collectors & Enthusiasts who join, free for life and all accessing the benefits and member services on demand, those owners can find advice, cars and companies for every aspect of Specialist car ownership.
The SVA Founder Partners are a group of sector leading businesses many of you will recognise, they have accepted an invitation to provide a benefit exclusively to the SVA to aid Business and Owners. Their Financial Services partners can arrange insurance at specialist rates on vehicles from £3,000 to many millions including important collections, and, if you have or are an overseas owner wanting to keep a car in the UK but is not resident, that's possible with the SVA too.
The SVA have two of the UK's leading specialist lenders to aid customers buy collectible cars.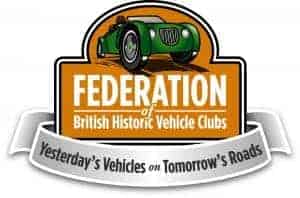 FBHVC – The Federation of British Historic Vehicle Clubs
The FBHVC exists to uphold the freedom to use historic vehicles on the road. It does this by representing the interests of owners of such vehicles to politicians, government officials, and legislators both in the UK and (through the Federation Internationale des Vehicules Anciens) in Europe.
There are over 540 subscriber organisations representing a total membership of over 250,000 in addition to individual and trade supporters.
All the FBHVC directors operate in a voluntary capacity supported by a secretary.